Workman & Son's Plumbing is a locally owned and family operated plumbing company in Ashland KY. We are fully licensed and insured, providing a full service of plumbing related needs for both residential and commercial projects. We also offer 24/7 emergency plumbing services.
Workmans & Son's has been operating for more than 45 years in the Kentucky/Ohio/West Virginia Tri-State area and we are able to pinpoint problems and solutions to keep your lines clean and free. We are proud to have a customer base of over 10,000 satisfied customers!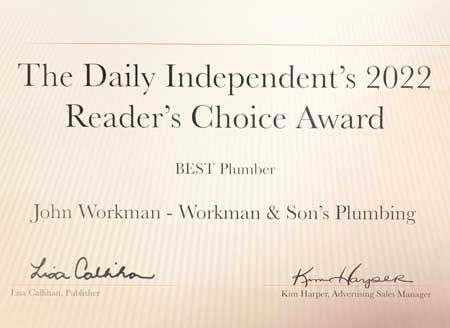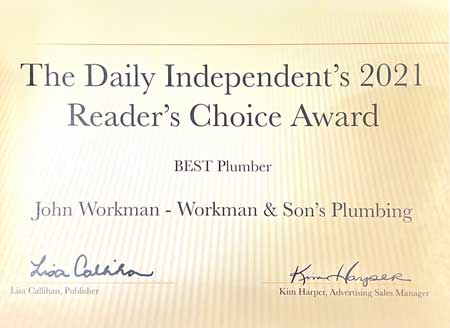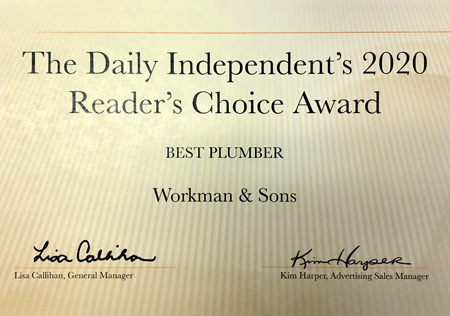 What We Do …
We offer a wide range of plumbing services to both residential and commercial customers throughout the Huntington, WV, Ashland, KY, Ironton, OH, and surrounding Tri-State areas. We can help you with any plumbing need, including plumbing emergency services, small repair jobs, or start-to-finish projects like new homes or commercial buildings or spaces.
Plumbing services include:
24-hour emergency services
Bathroom remodels
Commercial plumbing jobs
Fixture installation
Gas leak repair and detection
Jetter
Kitchen remodels
Line locator (sewer and water lines)
New construction
Plumbing installation
Residential plumbing jobs
Sewer camera
Site utilities
Sewer lines cleaning — small, medium, large eels
Sewer line repair
Sewer line installation
Sewer, water and gas service installation
Water heater installation/repair
Water line leaks
Water line repair
Workman & Son's Plumbing is careful to maintain professional and courteous service with every job, and we work diligently for your complete satisfaction. Contact us today for a free estimate!